1st Patient Recruited to the antiviral PAXLOVID arm of the PANORAMIC study in NI
November 24, 2022
The NI Clinical Research Network Primary Care team opened recruitment to the antiviral Paxlovid arm of the PANORAMIC study 23rd November 2022 and recruited their first patient in record time.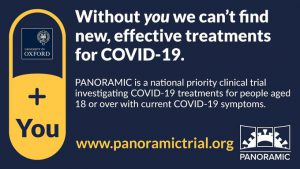 The PANORAMIC study, a national priority clinical trial investigating COVID-19 treatments has recruited over 26,000 participants since opening on 8 December 2021, with over 1000 participants from Northern Ireland. (Recruitment for the antiviral Molnupiravir arm of the study closed on 27 April 2022).
The additional antiviral, Paxlovid, is now being investigated in the study. Recruitment to the Paxlovid arm initially began in England only, and now has sites open across the UK, including Northern Ireland. From 23rd November 2022, members of the public in Northern Ireland can register for the Paxlovid arm of the study
PANORAMIC is open to anyone that meets the following criteria:
You are currently experiencing COVID-19 symptoms, beginning in the last 5 days;
AND You have had a positive PCR or Lateral Flow test for COVID-19.
More information on who can access the study or if you wish to sign up as a participant visit the PANORAMIC trial website Information on where to get lateral flow tests for those eligible and who wish to take part in the study is available at:
Find out more about the University of Oxford COVID-19 antiviral trial at:
Keep up to date with us via Twitter: https://twitter.com/NICRNCoordCentr
Back