Another Outstanding Achievement for NI Clinical Research Network nurse Leeann Bryce and the Orthopaedics Research team
January 13, 2023
Another Outstanding Achievement for NI Clinical Research Network nurse Leeann Bryce and the Orthopaedics Research team.
This week Leeann was awarded a certificate for 'Best Research Nurse for SCIENCE 2022' for her continued efforts and hard work on the SCIENCE study.
The SCIENCE Study – Surgery or Cast for Injuries of the EpicoNdyle in Children's Elbows is a multi-centre prospective randomised superiority trial of operative fixation versus non-operative treatment for medial epicondyle fractures of the humerus in children  and is sponsored by the University of Oxford and funded by NIHR
This research is currently being conducted in 68 sites across the UK, Australia and New Zealand.
Upon receiving this award Leeann said, "Needless to say I feel very honoured to have received such recognition for my involvement".
In addition to Leeann's recognition, The Royal Belfast Hospital for Sick Children team were also awarded a certificate for 'Top Recruiter for SCIENCE in 2022'.
Our wholehearted congratulations go out to Leeann and the Orthopaedics team at Musgrave Park Hospital Belfast and the Royal Belfast Hospital for Sick Children too.
To find out more about the SCIENCE Study click here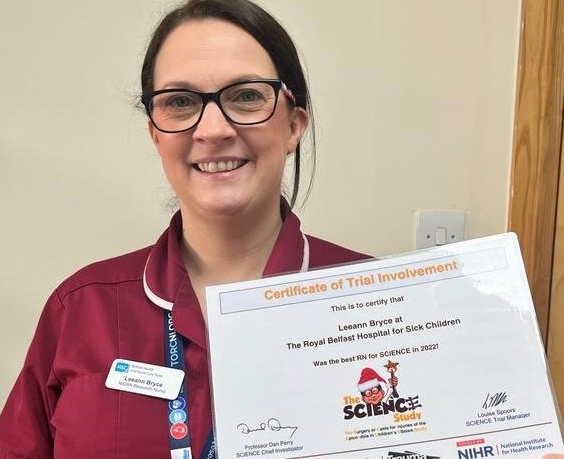 Written by Emma Byrne
Back