Health Minister Robin Swann marked International Clinical Trials Day with a visit to the team behind the successful roll-out of an innovative COVID-19 antiviral treatment study.
May 20, 2022
The Health Minister visited the Northern Ireland Clinical Research Network (NICRN) where the Primary Care team have supported over 1,000 local patients to participate in the UK-wide PANORAMIC study on an antiviral treatment.
Click here to read the full press release from the NI Department of Health.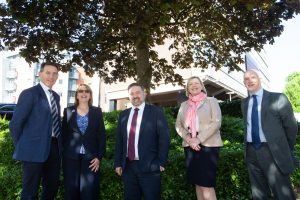 Back