NI Clinical Research Network Primary Care team, 2nd highest recruiter in the UK for Panoramic trial for January 2023
February 28, 2023
Our NI Clinical Research Network Primary Care team were the 2nd highest recruiter for the Panoramic trial in January 2023.
A huge achievement out of 65 recruiting sites across the UK, coming 2nd only to Lothian Health Board.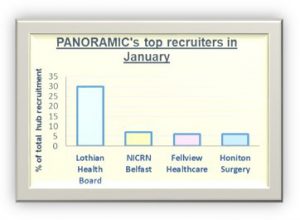 Panoramic is a UK-wide clinical study sponsored by the University of Oxford and funded by the National Institute for Health and Care Research to find out in which people new antiviral treatments for COVID-19 in the community reduce the need for hospital admission and get better sooner.
Our Primary Care team are recruiting volunteers, whether they have been vaccinated or not, to join PANORAMIC through this website: PANORAMIC – Spinnaker (panotrial.uk),
participating GP practices and other NHS sites across the UK.
PANORAMIC is open to everyone with ongoing symptoms of COVID-19 and a positive PCR  or  Lateral Flow  test, regardless of vaccination status.
You can participate in your own home from anywhere in the UK. No face-to-face visits are required.
Written by Emma Byrne
Back