Northern Ireland Success in HEAL-COVID clinical trial
July 19, 2023
NI has contributed 55 patients for HEAL-COVID out of total 1245 recruited in UK
However Northern Ireland as a region accounts for 4.4% of total recruitment despite making up only 2.8% of the UK patient population ONS, (2022).  Many congratulations to the BHSCT, NHSCT, SEHSCT and SHSCT, NI Clinical Research Network Respiratory Health Speciality teams for showing that NI is capable of punching well above our weight in terms of recruitment.
In the latest HEAL-COVID newsletter final recruitment figures were released, highlighting Craigavon Area Hospital, SHSCT as the 9th highest recruiter out of 109 sites in the UK with 31 participants recruited. Huge congratulations to Dr Rory Convery and the wider research team in the Southern trust for an outstanding performance on yet another Covid-19 trial.
HEAL-COVID: HElping Alleviate the Longer-term consequences of COVID-19: a national platform trial aimed to identify treatments that may be beneficial for people discharged from hospital after recovering from COVID-19. Emerging data suggests that around 1 in 10 patients with COVID-19 die and more than 1 in 5 develop new or worsened symptoms during the first three months after discharge from hospital. HEAL-COVID compared different treatments to determine whether they can improve the longer-term outcomes for patients who have been hospitalised due to COVID-19.
HEAL-COVID is an NIHR funded Urgent Public Health clinical trial of national importance, collaborators nationwide include the University of Liverpool, University of Cambridge, Liverpool Clinical Trials Centre, Cambridge Biomedical Research Centre, Heart and Lung Research Institute and Aparito. Danny McAuley, Consultant in Intensive Care Medicine, Belfast Health and Social Care Trust and Professor of Intensive Care Medicine at Wellcome-Wolfson Institute for Experimental Medicine at Queen's University and Professor Judy Bradley, Director of the Wellcome-Wolfson NI Clinical Research Facility and IREACH Health, Queens University Belfast were part of the Trial management team for HEAL COVID.
Professor Bradley said,
"NI has made a huge contribution to increasing access to clinical trials during COVID-19 and contributing to new treatments and ways of managing these patients. Dr Convery and SHSCT team have demonstrated particular success in terms of recruitment to this important study."
Professor McAuley said,
"The results from this national NIHR funded clinical trial will inform the treatment of patients following hospitalisation with COVID-19 and we are hugely grateful to all the patients who have participated in the trial locally as well as nationally."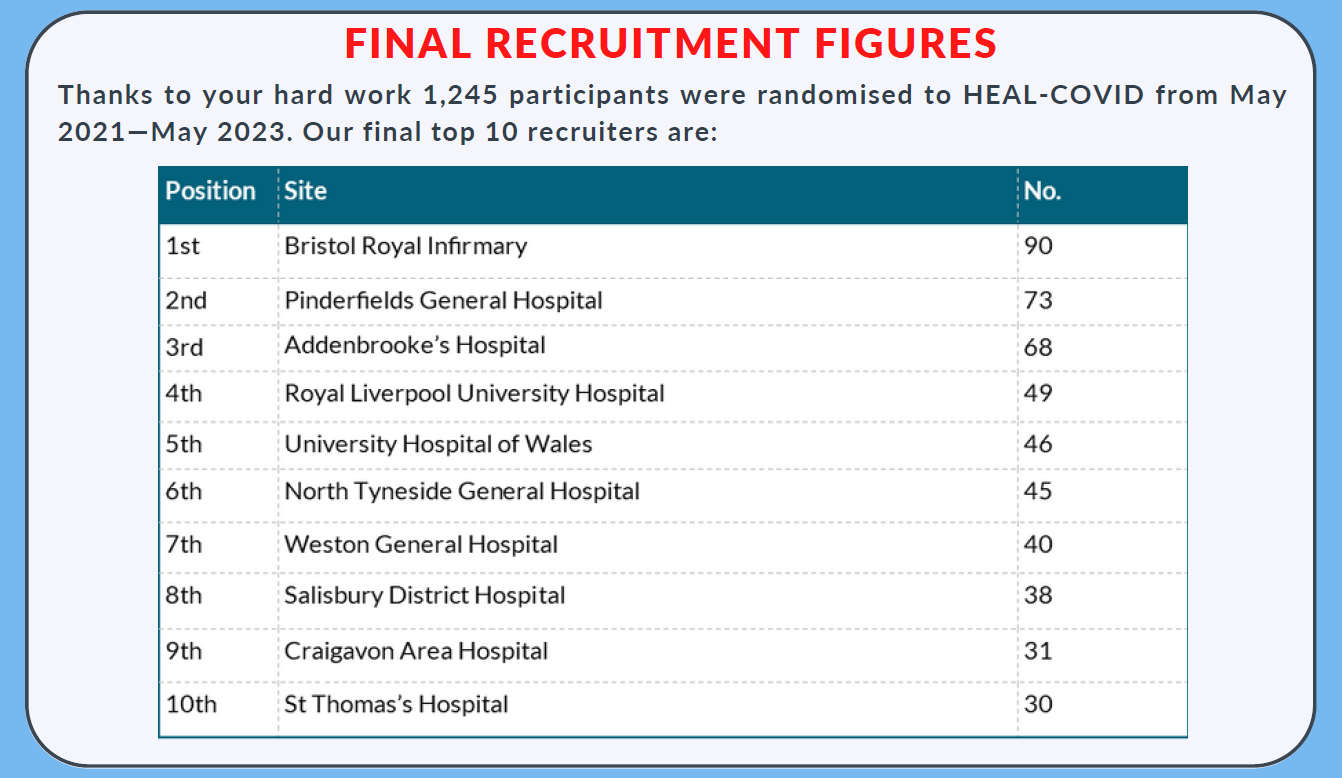 Find out more about HEAL-COVID here: https://heal-covid.net/
Keep up to date with us on Twitter here: https://twitter.com/NICRNCoordCentr
Reference:
Office for National Statistics (ONS), released 21 December 2022, ONS website, statistical bulletin, Population estimates for the UK, England, Wales, Scotland and Northern Ireland: mid 2021 5th July 2023.
By Emma Byrne
Back