One Week to go until the NI Clinical Research Conference 2023
May 11, 2023
To celebrate International Clinical Trials Day this year there will be a NI Clinical Research Conference 18th May at the Hilton Hotel Belfast. The event is sponsored by The Association of the British Pharmaceutical Industry (ABPI) in partnership with the NI Clinical Research Network, BHSCT and with Queens University, Belfast (QUB)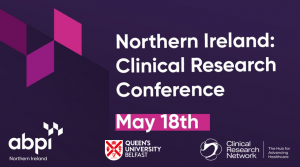 The conference will be aimed at Academics, Clinicians, Industry representatives, Patient Organisations and HSC Staff with a shared objective to improve Clinical Research across the life and health sciences ecosystem within NI.
Conference Objectives:
One year on from the launch of Northern Ireland's Clinical Research Recovery, Resilience and Growth vision, following on from the Covid-19 pandemic, this conference aims to share experiences on how academics, clinicians and industry can plan and work together to ensure that patients derive the greatest possible benefit from clinical research.
The day will centre on five focus areas:
Promote Northern Ireland as an effective and efficient melting pot for research.
Incorporating research into routine practice in HSC in NI.
Improving communication about research across the health and life sciences ecosystem and with the public.
Identifying and understanding the barriers and enablers facing researchers across HSC.
An Industry Perspective.
Check out the full agenda here: https://eu.eventscloud.com/website/10929/agenda-34/
We will hear from a range of speakers from QUB, Ulster University, HSC and Industry and are delighted to welcome keynote speaker Prof Chris Butler from the Panoramic Trial. Also presenting at the conference are several BHSCT colleagues:
Dr Chris Hagan, Medical Director
Professor Jonathan Jackson, NI Clinical Research Network Director
Professor Ian Young, Chief Scientific Officer
Dr Inder Mainie, Consultant Gastroenterologist
There will also be the opportunity to network with a range of Clinical Research colleagues, including a lunchtime exhibition session. If you or a colleague are research active and would like to attend, please contact Emma Byrne: emmax.byrne@belfasttrust.hscni.net
Back