Recognition from Dr Cathy Jack and BHSCT for our NI Clinical Research Network Child Health team
August 30, 2022
I'd like to offer many congratulations to our BHSCT Child Health Research Nurses: Angela Abbate, Eileen Killen and Samantha LaRoche who all received a Certificate of Recognition from Dr Cathy Jack on behalf of BHSCT for their outstanding work across a range of Child Health studies and Covid-19 trials including SIREN.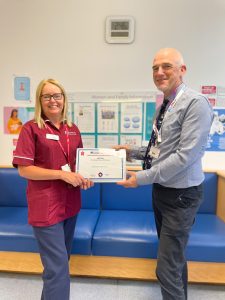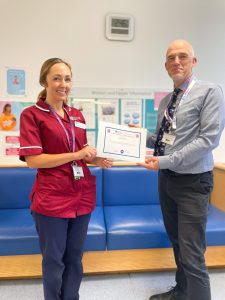 At the Royal Jubilee Maternity, NI Clinical Research Director, Professor Jonathan Jackson presented the team with their Recognition Certificates, including three certificates for Eileen, who was also recognised for her knowledge, kindness and support within the Child Health team and the wider team at Jubilee Maternity.
The Child Health team coordinate across 11 studies, 9 of which are in BHSCT (Angela, Eileen and Samantha) and 2 in SHSCT  (Judith Ratcliffe) and as a team have recruited 215 participants across both sites.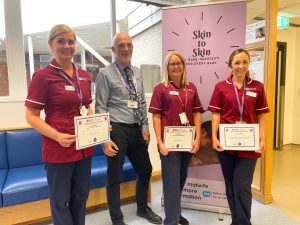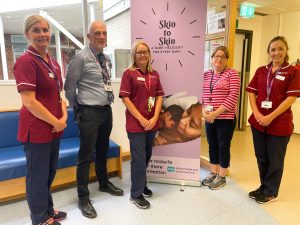 BHSCT clinical research nursed, Samantha also received two special mentions for her recruitment and data quality from the KD-CAAP: Kawasaki Disease Coronary Artery Aneurysm Prevention trial,  a Multi-centre, randomised, open-label, blinded endpoint assessed, trial of corticosteroids plus intravenous immunoglobulin (IVIG) and aspirin, versus IVIG and aspirin for prevention of coronary artery aneurysms in Kawasaki Disease.
The Royal Hospital for Sick Children is one of 26 sites recruiting across Europe.
If you would like to read the newsletter in full and if you would like to know more about Kawasaki Disease, access the Kawasaki Disease website here:
Back