As we all know the NI Clinical Research Network employs wonderful staff from a range of disciplines, however I'd like to give a special congratulations today to Sarah Sands SHSCT and Leeann Bryce BHSCT.
On Tuesday 5th July, Sarah and Leeann both graduated from Queens University Belfast with a BSc in Health Studies.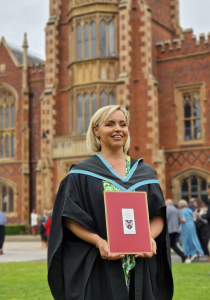 Sarah Sands:
Sarah qualified as a nurse in 1999 and started her nursing career in Daisyhill Hospital (DHH), working in the Male Surgical/High Dependency unit. In 2006 Sarah took up a position in the Endoscopy unit in DHH.
Sarah began working for the NI Clinical Research Network in September 2018 joining the GI group. In March 2020 Sarah was redeployed to Craigavon Area Hospital to support the delivery of the PHA, urgent public health, Covid 19 trials. Sarah has remained a part of the Respiratory team and is now working part-time in DHH supporting the CLEAR study.  In March this year Sarah took on another part-time post as a Band 7,  developing a service to rehabilitate patients with post-Covid syndrome.
Outside of work, Sarah is a mum to 3 girls aged 19, 16 and 12 and she loves spending her spare time walking in the Mournes.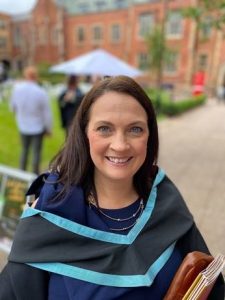 Leeann Bryce:
Leeann qualified as a nurse in 2002 and started her nursing career in Musgrave Park Hospital working on an elective orthopaedic surgical ward before taking up a role as an Arthroplasty Review Nurse in 2006. In 2016 Leeann began working as a Clinical Research Nurse, going on to become the first Trauma & Orthopaedic Clinical Research Nurse for the NI Clinical Research Network in April 2021.
Leeann is a mum of two young children, working full time in BHSCT and dealing with the impact of Covid-19, Leeann said, "The past 4 years of studying has been a challenge to say the least, but all of my hard work and dedication has finally paid off. I'm extremely proud of my achievement which would not have been possible without the encouragement of the NICRN and the support of the Trauma & Orthopaedic Research Charity Northern Ireland who kindly funded my degree."