Special thank you to Yellow Design Branding Specialists on the launch of our new Clinical Research Network Brand
November 17, 2022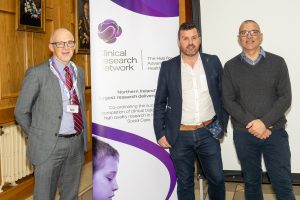 Pictured (L – R) Professor Jonathan Jackson – Clinical Research Director, Mr Michael McGlade – Yellow Design Creative Director and Dr Paul Biagioni – Clinical Research Network Senior Manager.
The Clinical Research Network Coordinating Centre collaborated with Yellow Design throughout the rebranding journey.
The project included five stages:
1. Research and Benchmarking – Brand audit, Market analysis, Competitors & Partners analysis and Business structure & objectives.
2. Branding Workshop – Refining the focus (USP), Brand promise, Positioning strategy, Pyramid structure, Naming & terminology.
3. Prototype Design – Logotype & tagline, Tone of voice, Colour, Typography, Imagery, Working Prototypes.
4. Design and Development – Continuation of design theme, Creation of web pages, Integration of new imagery, WordPress integration, Responsive design/formatting, Server testing.
5. Marketing Touchpoints – Brand guideline and rules, Social media strategy and content, advertising (Digital & print) Exhibitions, Stationary, Sales presentations/videos.
Collaboration, communication and innovation led to success.
Keep up to date with us on Twitter here
Back