Top 10 Recruitment for HEAL-COVID – SHSCT/NIRRRG
September 29, 2022
There is amazing work being done on the HEAL-COVID Study by our NI Clinical Research Network/NIRRRG Covid Delivery team, in particular NIRRRG nurses Abitha Nair and Suzanne Tauro who have recently been driving recruitment in Craigavon Area Hospital SHSCT.
HEAL-COVID: A national clinical trial, aims to identify treatments that may be beneficial for people discharged from hospital after recovering from COVID-19.
Emerging data suggests that around 1 in 10 patients with COVID-19 die and more than 1 in 5 develop new or worsened symptoms during the first three months after discharge from hospital. HEAL-COVID is a clinical trial to compare different treatments to determine whether they can improve the longer-term outcomes for patients who have been hospitalised due to COVID-19. HEAL-COVID has been determined by NIHR to be an Urgent Public Health clinical trial of national importance.
The collective team have just recruited their 28th patient – An amazing achievement.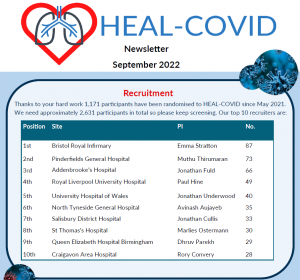 Many congratulations again to our NIRRRG team and the wider Clinical Research Network team in NI.
Back